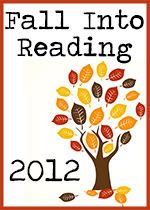 Yikes! I almost missed it. But it's still the 22nd, so I'm not too late yet.
As usual,
Fall Into reading
is being hosted at Callapidder Days. It's become a tradition by now, so of course I'm in :-) The challenge is to make a list of books to read between September 22nd and December 21st. There is no requirements as to the length of the list, but I usually do a book per week. With the business of moving coming up, I think I'll go a bit easier on myself this year though, and just take 10 books rather than the usual 13.
So far this year I've read 130 books. That's a bit less than my usual, so I doubt I'll make it to 200 like I have on previous years. However, my sub-goal was to read 50 books from my to-read shelves, and there I'm at 40, so finishing that should be
very
doable.
For the same reason, all 10 books on my Fall Into Reading list come from my to-be-read shelves.
Happier at Home - Gretchen Rubin
Can't wait to read this!
The Yarn Harlot - Stephanie Pearl-McPhee
I loved her other book, so this should be good :)
Meet Me At The Cupcake Café - Jenny Colgan
The other book I've read by Jenny Colgan was a wonderful comfort read, so I have high hopes for this as well :)
Giants of the Fall - Ken Follett
Okay, perhaps it is a bit ambitious to add SUCH a chunkster to my list, but Ken Follett usually writes very readable books, and I'm really looking forward to reading this :)
Call the Midwife - Jennifer Worth
Independently of each other, Nina and I both bought this book on our last trip to London. She's already read it and liked it, so I figured I'd better catch up with her.
Somebody Else's Kids - Torey Hayden
I've yet to read a book by Torey Hayden that wasn't WELL worth reading.
Border Wedding - Amanda Scott
This has been on my shelves longer than I care to admit. I have NO clue why I haven't gotten around to reading it yet!
September - Rosamunde Pilcher
Pilcher is usually good for a comfort read :)
Lightning - Dean Koontz
I went on a Koontz/King kick several years back thanks to Carina. She had two copies of
Lightning
so kindly gave me one of them. For some reason I've just never gotten around to reading it.
The Magician's Apprentice - Trudi Canavan
Another book that I do NOT understand has been standing untouched on my shelves for so long. I absolutely loved the Black Magician Trilogy, so why haven't I read this prequel yet? About time!